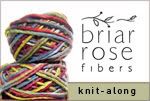 A Knit-along you don't want to miss!
There is a Briar Rose Fiber waiting for you! Use the Briar Rose Yarn already in your stash or order your yarn from Chris at
Briar Rose Fibers
and get ready to cast-on in January. While everyone else is exercising and breaking their New Year's Resolutions, we will be warm and cozy with one (or more) of Briar Rose's fabulous fibers. Just e-mail me at
Kniterella@comcast.net
and we'll put you in 'the join'.
I am very happy to organize this knit-along and Chris has offered to sponsor periodic yarn give aways - what more could you want? A chance at FREE yarn? I am so there!